Valentine's Day is just around the corner, but you can skip out on rushing to the liquor store. To really impress your special someone this February, consider signing the both of you up for a wine club membership.

When you and your partner join a wine club, you're getting more than a bottle or two of wine. Most wine clubs send customers bottles tailored to their unique tastes, vintages available only to members, pairing and tasting notes, winemaker bios, and, perhaps best of all, very large quantities of wine (up to 15 bottles a shipment!).


Unsure a wine club is right for you and your current relationship status? Check out the ways a wine club membership can boost just about any partnership, below:


The Ice Breakers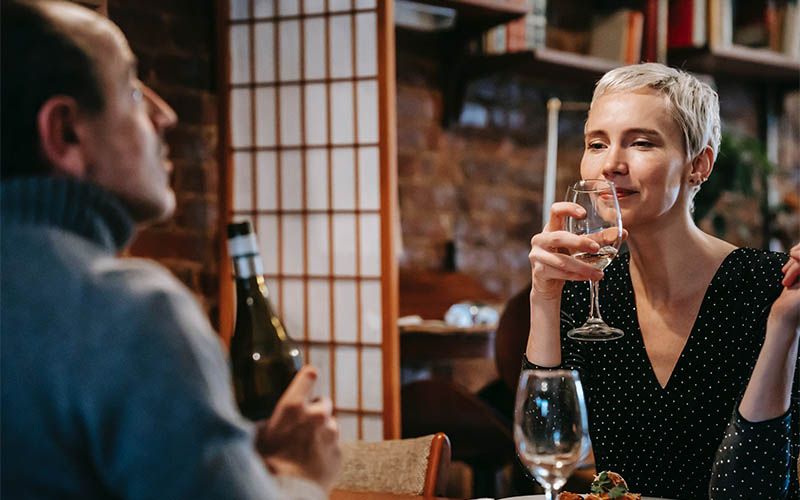 With a little preparation, a wine club can be the perfect way to get to know your date for an inexpensive and laid-back first date. If you're feeling brave, try showing up to dinner with a bottle of wine tailored to your date's taste.
A few of the wine clubs listed on our site offer a tastemaking service. Before receiving their first shipment, customers take a short palate test. Using these results, the wine club's in-house sommeliers create a unique shipment of bottles designed just for your preferences. Customers can then edit their future selections by sending feedback on the wines they've been sent, so the sommeliers can zero in on the exact kinds of bottles they'll love.
Before the meet-up, forward your date a tasting quiz from a wine club of your choice. Once they include their preferences, you'll receive a shipment of wines your date will love. Once you have your date's perfect bottle in hand, all that's left to do is find a nearby restaurant with a BYOB policy (you wouldn't want to get kicked out of a restaurant on your first date).
Check out our favorite wine clubs that feature a tastemaking service:

The Travel Companions


If you and your partner are the types who can't wait to get on the road again, a wine club membership can help fill in the idle days between vacation dates.
To help set them apart from the competition, wine clubs like to specialize their selections by region. Customers can shop a variety of regions, including wines from the US (California), traditional winemaking regions (Italy, France), and obscure winemaking regions (Croatia, Slovenia).
To supplement your wine tasting journey, wine clubs often include informational materials unique to each selected wine. Members can learn tasing notes, suggested food pairings, the region of origin, notes on the growing year, and even read bios of the winemakers themselves.
Instead of waiting around for the next adventure, order your own globetrotting tasting tour delivered right to your door. Simply order from a club that offers selections by region, style, or selection; then you're ready to sip!
United States Wine Regions (California)
Traditional Wine Regions (Italy, France, Spain)
Obscure Wine Regions (Croatia, Slovenia, Hungary)

The Food-Loving Homebodies


Sometimes the best date night is the one where you never leave the house.
Wine clubs pair well with a night in. For starters, a number of clubs select their wines at the advice of celebrity chefs. These food professionals will often suggest the food pairings and tasting notes that come included with each wine club shipment. For an inexpensive, celebrity-suggested meal, try cooking a paired meal and enjoying it with the appropriate bottle.
The other upside to wine clubs is the quantity of a shipment. Membership shipments range anywhere from 4–15 bottles, making it all the easier to stay in your pajamas and enjoy delicious wine for weeks to come.
Get ready to get comfy with these wine clubs designed for the cozy-couple experience:
Great for Meal Pairings:
Ideal for Bulk Purchases:
The Party-Hosting Socialites


If hosting friends and family is your thing, a wine club membership could be your answer to a night of pomp and whimsy.
Wine clubs often sell their wines exclusively to club members. If you want in on vintages created by independent winemakers and celebrity chefs, you'll need to select a wine club and get the inside scoop.
You'll also find a variety of party-friendly wines crafted for the daring. Throwing a girl's night out? Try a wine club that specializes in canned, fizzy wines. Hosting a couples' night stuffed with wine snobs? Give your guests a taste of wines grown in regions they can't even find on a map such as Croatia or Slovenia.
Give our party-friendly wine club list a try:
Exclusive and Independent Wines:
Fun and Out-there Wines:

View Our List of the Best Wine Clubs
Now that you know just how a wine club can benefit you and your Valentine, it's time to find the perfect membership for the two of you. Click the link below to view our list of the top wine clubs in the country: